Description
The Pocket Shot is a revolutionary evolution of the traditional slingshot. The circular design allows a quick load at two to three times the rate of a regular slingshot. Perfect for recreational use as its compact size allows you to keep it in your pocket, bag or tackle box while storing ammo in its water resistant compartment. At up to 350 feet per second, the Pocket Shot is NOT a toy.
The Pocket Shot comes in a kit with one standard pouch and one pro-pouch. The new high impact inner ring is indestructible and guaranteed not to chip, crack or break from any stray shots coming at it from the inside. The outer ring and cap is made from noryl resins, strong and durable for your outdoor and recreational needs. The Pocket Shot is designed to shoot paintballs, airsoft pellets, slingshot ammo and arrows only.
Made 100% in the USA.
There are now 2 different colour rings available, Black, and Orange.
Contents:
1x Nylon Composite Ring (available in Black or Orange)
1x Pro Pouch
1x Safety Instructions.
Optional Accessories:
Please read below before purchasing.
While the Pocket Shot can be used recreationally, it is NOT a toy. Check your local laws for age restrictions. Anyone under the age of 16 should have adult

supervision during operation. ALWA

YS wear eye protection.

NEVER AIM OR SHOOT THE POCKET SHOT AT A PERSON. Doing so may result in serious injury

.

Know what your target is and what is behind it. Always shoot the Pocket Shot in an area that is well lit. Make sure you have an adequate backstop for your

target. Keep bystanders, children and viewers behind shooter at all times while shooting the Pocket Shot. These products are made of synthetic materials

and are subject to imperfections and possible failure at any time. Inspect the pouch, its assemblies and the ring/frame before each shot for any signs of

wear, breakage or cracks.

DO NOT SHOOT IF POUCH OR FRAME IS WORN OR DAMAGED IN ANY WAY! Replace damaged or torn pouch immediately and retire a damaged

frame.

DO NOT shoot darts, rocks, glass, or any other type of sharp object.

The Pocket Shot is most accurate and desirable to fire at approximately 8

-

10 inches stretched (depending on elastic pouch

type).

DO NOT alter or modify the Pocket Shot in anyway

.
Pocket Shot Care Guidelines
Store your pouches in a cool dry place. Pouches will dry out if stored in a hot dry environment. This will create cracked and brittle latex subject to tearing.
Pouches will be less tacky if a small amount of baby powder is used inside the pouch before firing. Avo

id getting pouch wet (If this occurs dry as soon as
possible with a cloth). Do not over stretch latex pouc

h. Do not freeze pouch.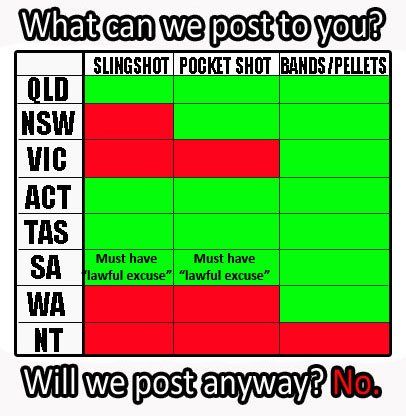 Additional Details
SKU:

S-8599

UPC:

708302885997